Accreditation Ceremony Held for 2020 Superior Laboratory Safety Management
On January 21, at the Research and Business Cooperation building, Korea University Sejong Campus held an accreditation ceremony for 2020 Superior Laboratory Safety Management, a program run by the Ministry of Science and ICT. Many people participated in the event, including Vice President Kim Young, Professor Kim Youngjun of the Bio-Medical Technology Laboratory, and Professor Lee Jinhyeob of Antioxidant System Control Laboratories I, III, and IV.
Accreditation for superior laboratory safety management is provided for laboratories that have demonstrated and consistently achieved an excellent level of laboratory safety management. The accreditation system was created by the government to reinforce the autonomous safety management capability of science and technology laboratories at universities and research institutes, and for the sharing of model safety management standards as they are discovered. Two laboratories of Korea University Sejong Campus participated in this project for the first time in 2019 and were rewarded with accreditation, while in 2020, four laboratories received accreditation.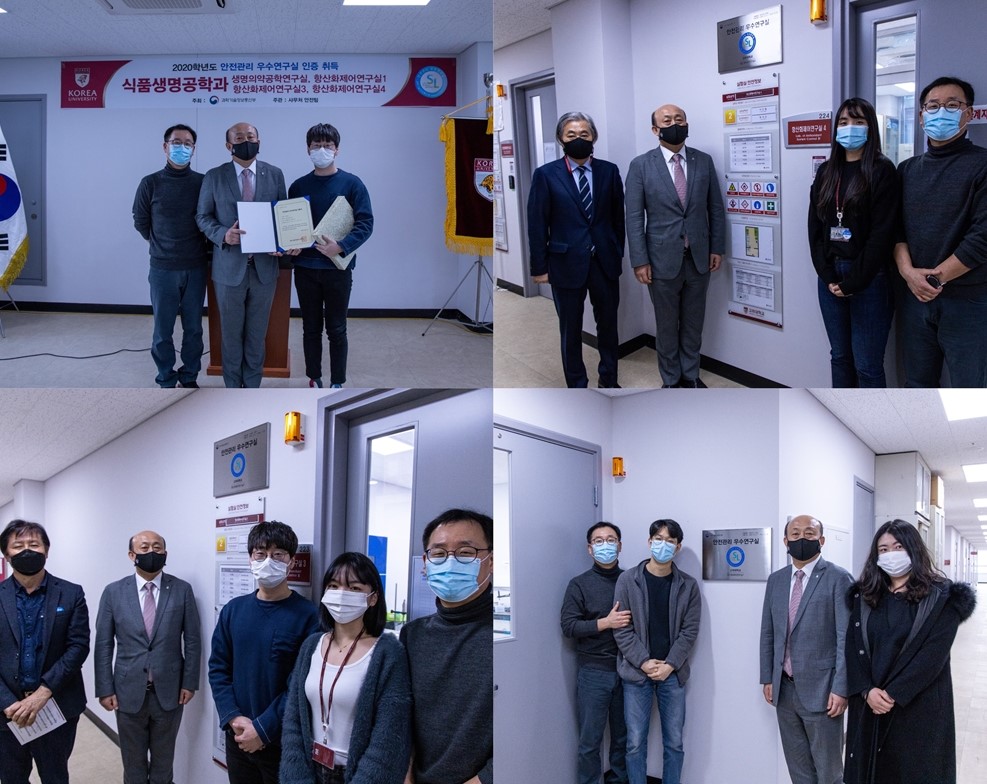 The Bio-Medical Technology Laboratory, which received accreditation this time, has maximized gene extraction with the latest enzyme and high-pressure processing technology in their research to prove the functionality of natural materials through cell culturing. Also, they are studying biosynthesis and extraction of functional fatty acids and cooperating with other departments to develop and apply smart process control technology. Furthermore, the Antioxidant System Control Laboratory is researching the establishment of a technology based on control of integrated ROS (Reactive Oxygen Species) by constructing networks of ROS regulatory factors.
Vice President Kim, who gave a congratulatory address at the ceremony, said, "The accreditation system works by reinforcing safety management consciousness and improves the environment of laboratories. Not only that, it provides students who want to keep researching with many opportunities to grow and continue leading the improvements in their own laboratory's safety management environment." He added that, "Korea University Sejong Campus is going to provide positive support for each laboratory in order to ensure they obtain laboratory accreditation." Following that, Professor Kim of the Department of Food and Biotechnology said, "All members will try to help the entire campus so that this accreditation brings with it a great deal of success." The event then wrapped up with the unveiling of the accreditation plaques and time for group photos.
KU Sejong Student PR Team, KUS-ON
Student Reporter: Kim Hyewon
Photographer: Kwon Yeonwoo
Translator: Park Dahae
Editor: Conrad Brubacher