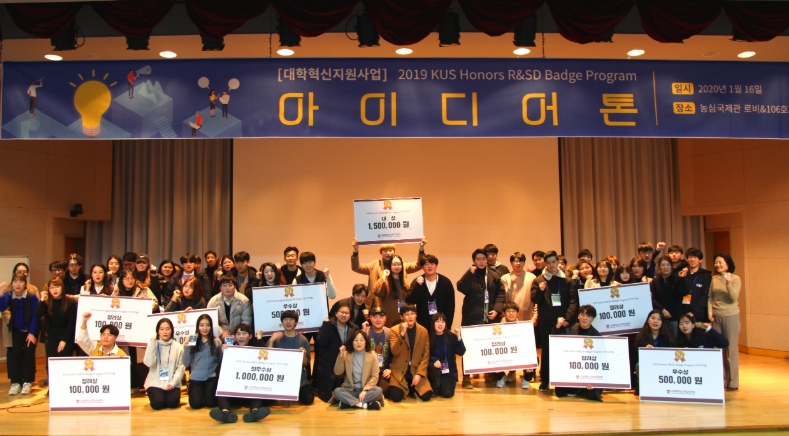 *Students and participants who participated in the 'KUS Honors R&SD Badge' Idea-thon take a group picture after the awards ceremony
<Korea University Sejong Research and Business Education Center Holds KUS Honors R&SD Badge' Idea-thon>
On January 16, the Korea University Sejong Research and Business Education Center held the 'KUS Honors R&SD (Research & Solution Development) Badge' Idea-thon in Nong Shim Hall of Korea University Sejong Campus.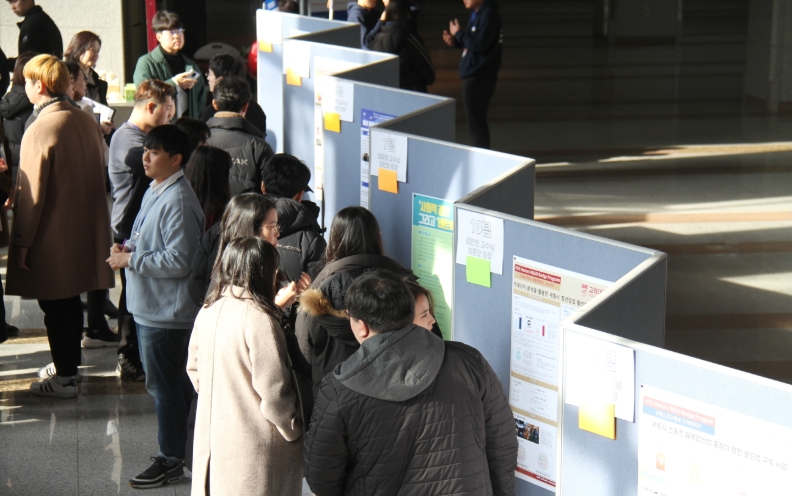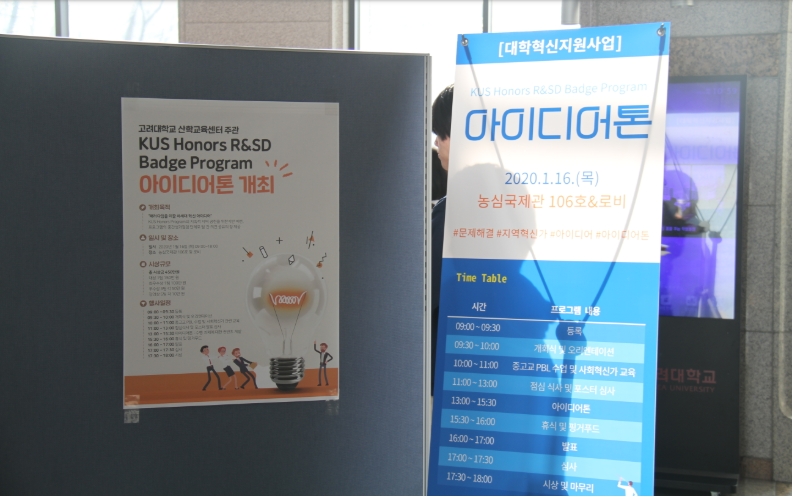 The 'KUS Honors R&SD Badge' program was arranged with the goal of training creative and talented people to lead the era of the 4th industrial revolution. The Idea-thon held as part of this program was conceived to reinforce students' ability to solve active problems and provide wide opportunities for research. Tutors were assigned to each team, and people in charge of local institutes and industries participated in the event as mentors and gave practical advice. A research subject deemed 'excellent' in the Idea-thon is going to be applied to afterschool classes for middle and high schools in Sejong City in the spring semester of 2020, and the research team that designed the project will conduct mentoring with teenagers.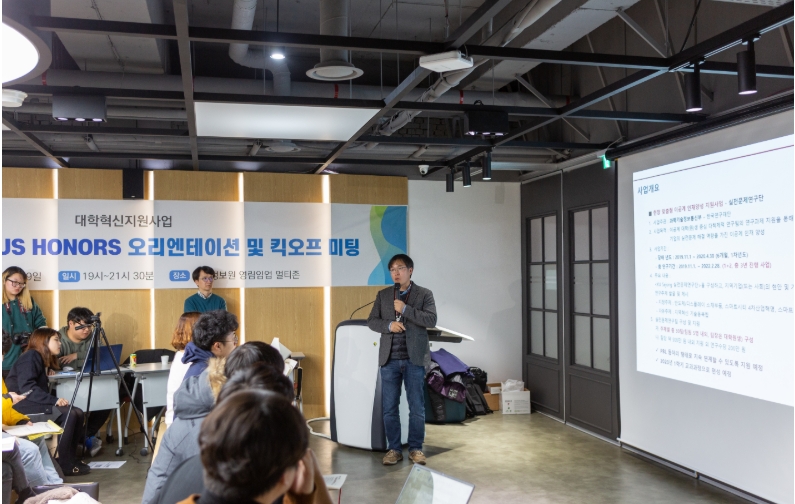 The Sejong Research and Business Education Center pre-held a combined orientation targeting the participants of the program on December 9, 2019. Various support plans were suggested to help the mutual interaction between students and tutors participating in the event and the performance of research, and the students who were selected for the research teams presented each subject for their projects.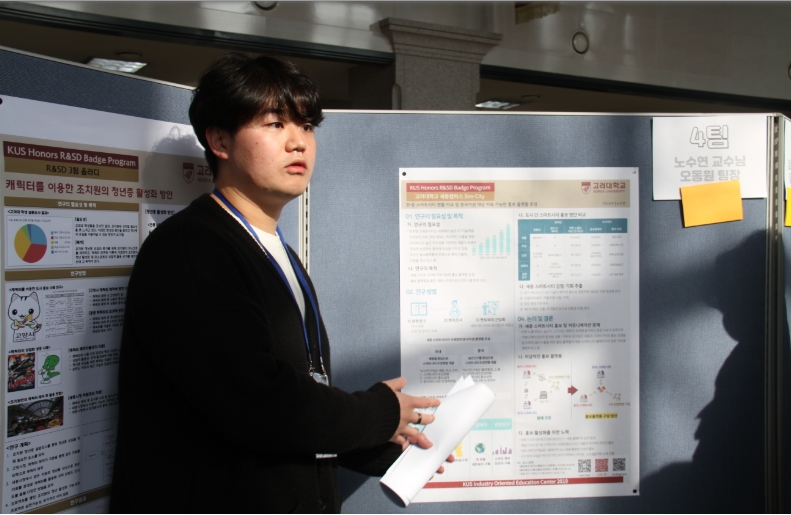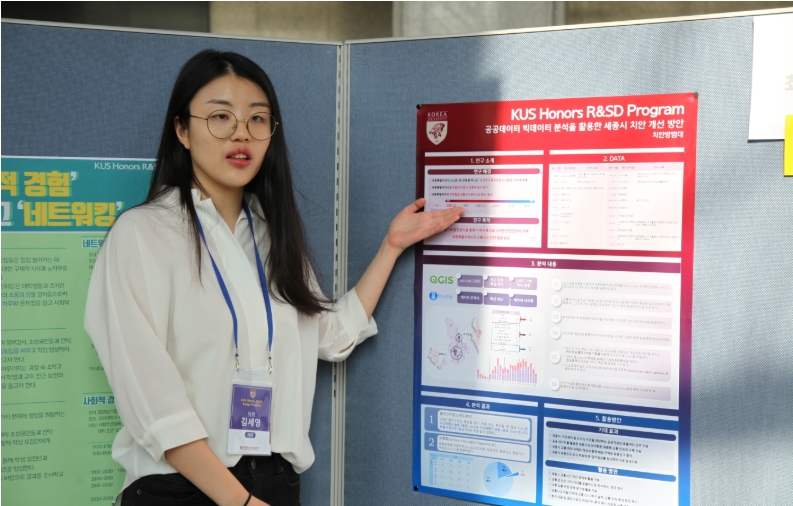 There were ideas from 15 teams composed of a total of 86 students in the Idea-thon on January 16. Each team came up with a research subject to solve pending issues of the local community and problems of technology by engaging with one subject among language, society, economics and business, and culture. Also, they introduced their content for the judges, and went through a question and answer session.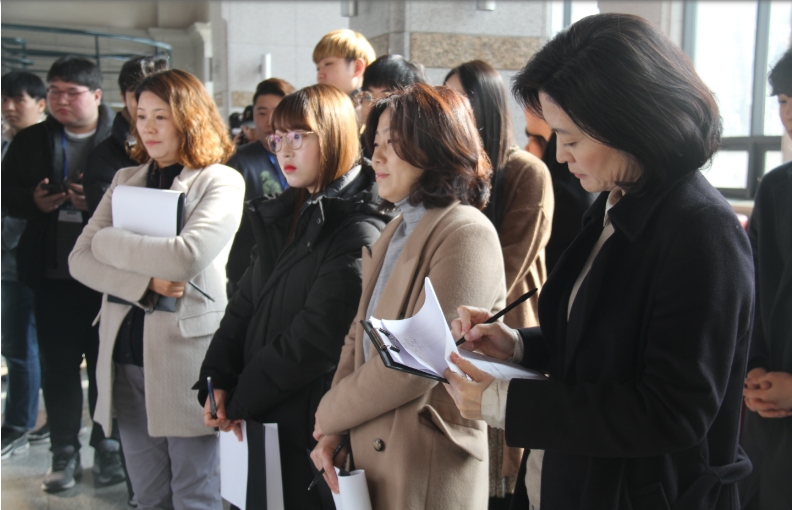 The judges assessed the innovativeness of the contents, the validity of the regional innovation, the appeal of the contents, and the performance levels of each team, and afterwards, an awards ceremony was held for the team displaying the highest degree of 'excellence.' The team that won the grand prize was given 1.5 million won, the team that won the first prize was given 1 million won, and three teams that won the prizes for excellence were given five hundred thousand won, respectively. Five teams that won participation prizes received one hundred thousand won. Meanwhile, every student who participated in the Idea-thon received diplomas under the name of the Sejong Campus Vice-president.
Kim Hwi, director of the Sejong Research and Business Education Center, said, "This Idea-thon is a meaningful opportunity to increase students' sense of challenge and their ability to solve research problems," and, "I will continue to provide active support to encourage research based on communication that has a place in the future." He added, "I hope such an opportunity is a chance to increase understanding about various industrial fields and for students to display their ability before they go out into the world."
KU Sejong Student PR Team, KUS-ON
Student Reporter: KU Sejong Student PR Team
Photographer: KU Sejong Student PR Team, Sejong Research & Business Education Center
Translator: Park Dahae
Editor: Conrad Brubacher