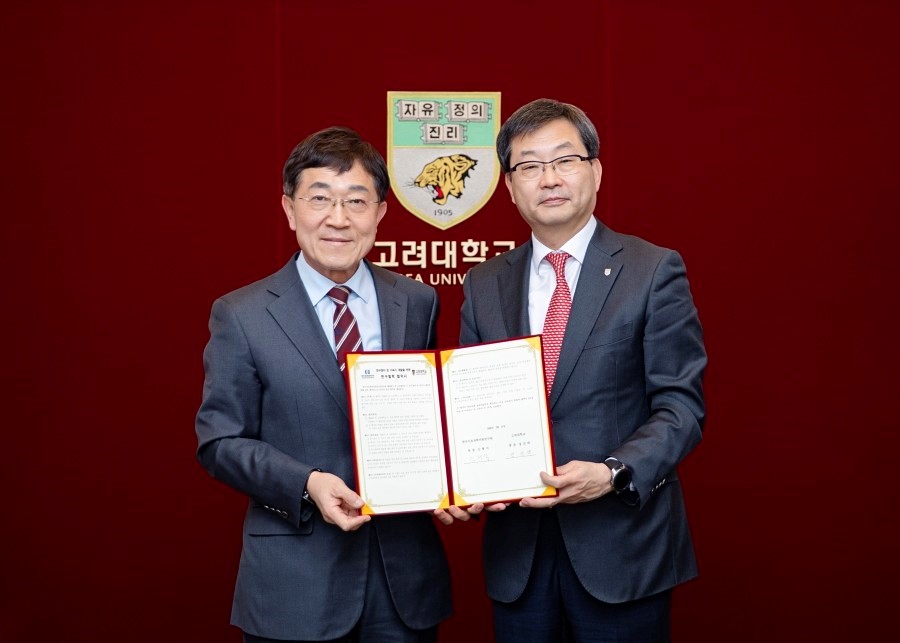 Korea University Sejong Campus Concludes Business Agreement
for Cooperative Research on Accelerators with Korea Basic Science Institute
On Korea University's Seoul Campus, Korea University President Chung Jintaek concluded a business agreement for a cooperative study to develop research equipment and a new next-generation accelerator with the Korea Basic Science Institute's Director Shin Hyeongsik. Korea University Sejong Campus has been the only university in Korea with a Department of Accelerator Science Master's and PhD course since 2014, during which time they have pursued research on accelerators and beams by building the necessary infrastructure for studies in accelerator science.
Under this agreement, both institutes will focus on exchanging manpower and cooperating in the study of research equipment and technology regarding accelerator development; developing and testing a cation acceleration mass spectrometer; developing a next-generation accelerator; and developing technology and analytical equipment related to accelerator science.
In particular, the cation accelerator mass spectrometer, which was developed by Korea University and the Korea Basic Science Institute through this agreement, is a mass spectrometer using boron cation that represents the first attempt of its kind in Korea. The development of a cation accelerator mass spectrometer has been actively pursued in countries that are leaders in accelerator technology such as the United States, the EU, and Japan. However, most of the countries develop accelerator mass spectrometers with carbon cation.
The development of a smaller sized cation accelerator, like a cation accelerator mass spectrometer, has a very important meaning in the medical field because Baron Neutron Capture Therapy (BNCT), which is spotlighted as the basis for a next-generation cancer treatment machine, treats a particular cancer by using cation beams like accelerated hydrogen and heavy hydrogen. This study, regarding the development of research equipment, is expected to lead to a follow-up study like the development of cancer treatment in the future, because the basic structure of the treatment machines that work by producing and accelerating cation beams is similar to that of a cation accelerator mass spectrometer.
President Chung said, "Korea University will cooperate actively in the exchange of professional manpower, and cooperate in the study of fusion and compound technology and basic science, including a next-generation accelerator and core technology analytical equipment." Director Shin from the Korea Basic Science Institute said, "I'm looking forward to the development of large research facilities for radiation beams, and the development of advanced analytical research equipment is an opportunity for further development in that both institutes can cooperate to develop a cation accelerator mass spectrometer, which is advanced analytical equipment that we can use to possess the technology of small accelerators.
KU Sejong Student PR Team, KUS-ON
Photographer: Korea University Communication team Kim Nayoon
Translator: Park Dahae
Editor: Conrad Brubacher