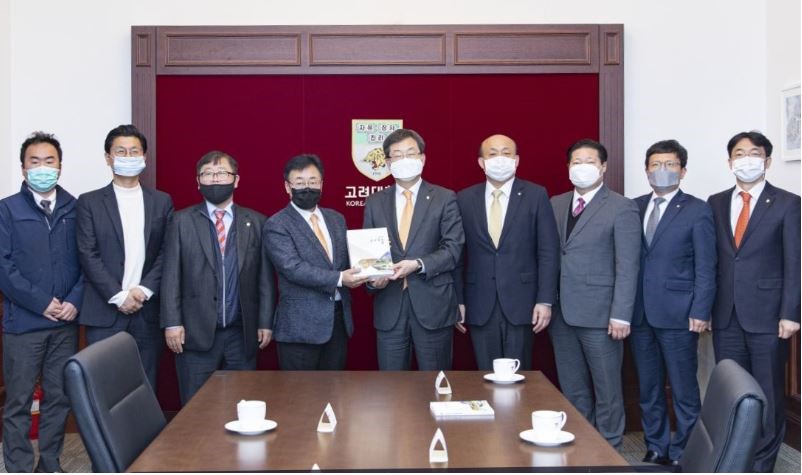 Sejong Alumni Association Publishes 'List of Korea University Sejong Alumni Association'
Korea University and the Sejong Alumni Association (President Moon Byungcheon) held a ceremony in the president's office at 1pm on April 22 to commemorate the newly created 'List of Korea University Sejong Alumni Association.'
President Chung Jintaek, Vice President Kim Young, secretary general of the Korea University Alumni Association, Jang Kyungho, foreign cooperation advisor of the Sejong Alumni Association, Choi Seungwook, and other members, attended the event.
The list of alumni, which contains information on thirty thousand alumni and the history of each college, was published to record the history of Korea University Sejong Campus and to increase closeness among alumni members. It is the first time for the list of alumni on Sejong Campus to be issued.
On the list of alumni, that amounts to 1,262 pages, each name was recorded in sequence of the year of admission by each college and then the function, office index, and name index were added. Especially, this list has historical significance in the way it includes the college and department title at the time the alumnus graduated prior to the reorganized school system in 2017.
Korea University Sejong Campus, established in 1980, is marking its 40thanniversary year, and is expected to look back upon the previous history as well as to promote friendly relations with each other through the newly issued list.
KU Sejong Student PR Team, KUS-ON
Reporter: Oh Jehun
Translator: Yang Hayoung
Editor: Conrad Brubacher