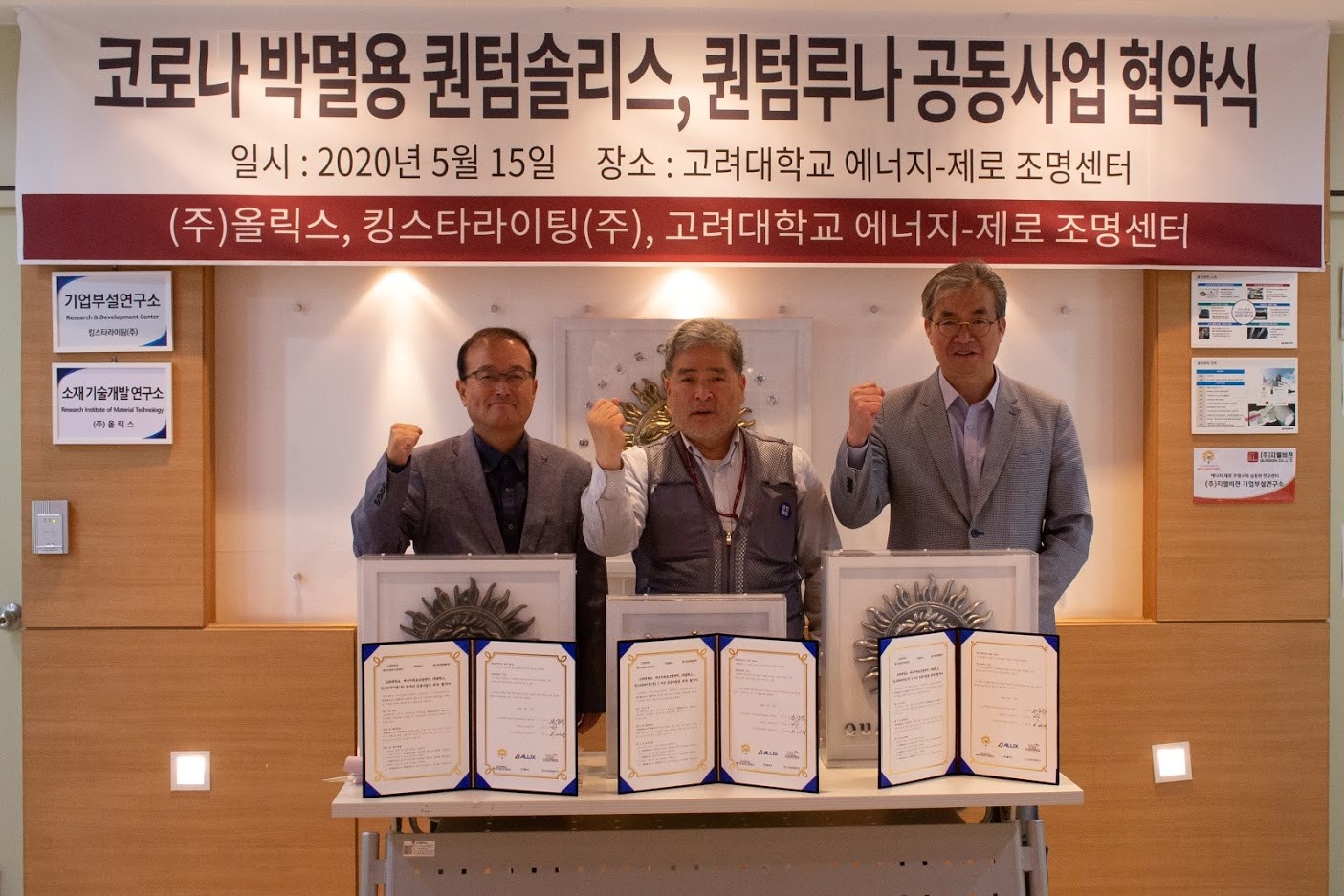 Korea University Sejong Campus Holds Agreement Ceremony for New Virus Germicidal LED Light Source Joint Business
The Korea University Sejong Campus Energy-Zero Lighting Center entered into a joint business agreement on an LED light source.
Professor Kim Sanguk from the Korea University Sejong Campus Energy-Zero Lighting Center, CEO of ALLIX, Ahn Jonguk, and CEO of King Star Lighting, Lee Daeyoung, confirmed the 'COVID-19 Germicidal LED Light Source Joint Business Agreement' in the Energy-Zero Lighting Center on May 15.
The Korea University Sejong Energy-Zero Lighting Center was founded as part of the functional college commercialization empowerment business sector of the INNOPOLIS Foundation under the Ministry of Science and ICT in 2015 and has since been developing Quantum Dot lighting material.
Each institution collaborated on developing a new LED light source and LED 2 light source sensing technology, and they applied them to 'Quantum Solace' and 'Quantum Luna.' The 'Quantum Solace,' based on VLED, and the 'Quantum Luna,' based on XLED, are lighting sources used for a general purpose or a medical purpose for virus disinfection.
An ultraviolet-C light source, which is commercialized now, is a low-pressure mercury lamp, and needs a high-voltage discharge. In addition, there are a number of constraints in using it because not only does it contain hazardous mercury, it is also a tube-shaped product covered by quartz glass. Regarding this, an alternative light source has been found, which can overcome the limitation of low-pressure mercury.
The ultraviolet LED light source has gained a great deal of attention. However, the efficiency of the ultraviolet LED light source is only 5 to 10% of general LED sources. The level of current ultraviolet LED light source technology is still in the process of research and development because of said limitation. To overcome the limitation, developers are focusing on developing a purple LED light source, which includes germicidal power like ultraviolet light. In other words, they are looking for the answer in purple luminescence LED in the area of 400~420nm, which has germicidal power and is also harmless to the human body.
The new purple LED light source technology has been selected for the 'Quantum Solace' product. Especially, the new LED source used in the product has been commercialized into an LED package called "XENOLED-II" after research and development at ALLIX for many years. ALLIX technology is a new light source LED technology that not only increased in germicidal power by generating a 405nm wavelength, which is the largest energy among purple LED light sources, but also has a luminescence efficiency of 80% of visible light LEDs.
The 'Quantum Luna' has an ultraviolet-C LED light source, which maximizes germicidal power. Since the technology uses high-germicidal light sources, it incorporates the 'sensor technology' of King Star Lighting, which people can turn on when needed. Thus, LED 2 light source technology, which is manufactured to use with general lights, was selected.
The Quantum Solace and the Quantum Luna combined with new light source LED technology were released by ALLIX, King Star Lighting, and the Korea University Sejong Campus Energy-Zero Light Center. The LED packages and the LED light products were produced because they developed new LED materials.
Now, the Korea University Sejong Campus research team finished the first effect estimation of the germicidal power of a Quantum Solace light on a virus similar to COVID-19. Furthermore, they are expecting a COVID-19 disinfection if each institution's research, cooperation, and verification works together smoothly.
Based on this agreement, the three institutions are going to pursue the commercialization of Quantum Solace and Quantum Luna through closer industry-academia research.
Professor Kang from the Energy-Zero Light Center said, "I hope these technologies are commercialized into products quickly through industry-academia research." He added that, "I want to help put an end to COVID-19 as soon as possible."
KU Sejong Student PR Team, KUS-ON
Translator: Park Dahae
Editor: Conrad Brubacher