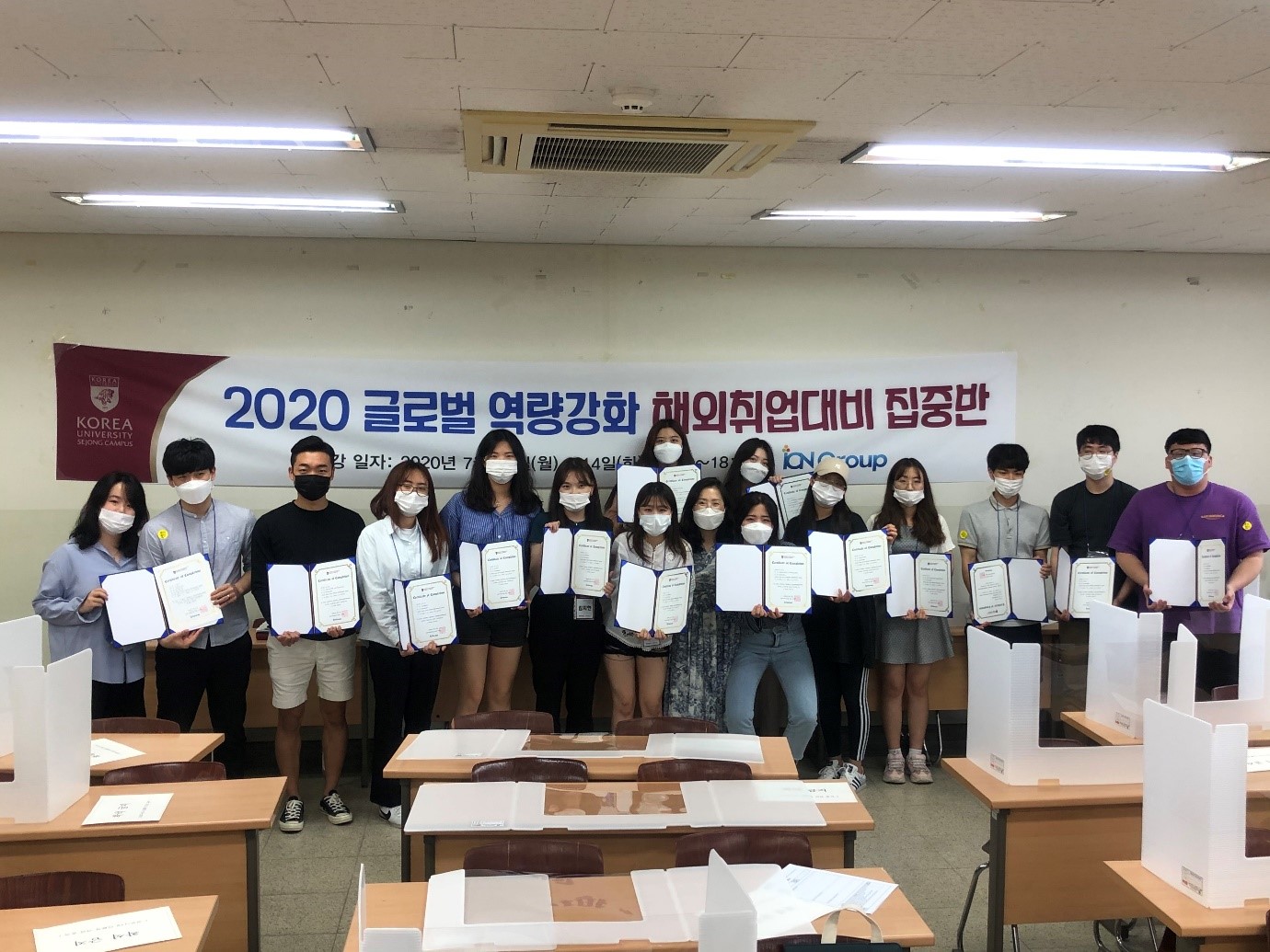 Sejong Job Center Runs Preparation Classes for Strengthening Ability to Gain Overseas Employment
The Korea University Sejong Campus Sejong Job Center successfully hosted preparation classes from July 13 to 14 that were focused on strengthening students' ability to gain employment overseas. This program was comprised of seventeen people and involved building the English portfolio necessary for overseas employment and the provision of strategic overseas employment consulting.
Through these classes, the Sejong Job Center is expected to contribute to establishing a long-term plan which counteracts the shrinking of the overseas employment market that has resulted due to COVID-19. The current enthusiasm for overseas employment is evident in the number of students who pre-registered, and most of all, dangers from the pandemic were thoroughly prevented, and the program was conducted face-to-face.
This seminar was designed on the basis of analyzing the practical skills that are needed when preparing for overseas employment, receiving feedback including direct consultation on English resume writing, conducting 1:1 English interviews and interview simulation, lessons on global manners and etiquette, inspecting an employment contract written in English, and how to engage in office talk.
Oh Sungji, a student from the College of Pharmacy who attended the seminar, gave her thoughts on it, saying, "I learned how to plan my future suitably for the type of duties I will encounter and what can help me to prepare appropriately for writing an English resume that is effective for overseas employment. Especially, I learned useful tips and how to prepare for the fact that video interviews are the norm in the face of the COVID-19 dangers. I acquired a lot of knowledge through this seminar and was actively encouraged to prepare for overseas employment."
In designing the event, Consultant Lee Yeonkyung from the Sejong Job Center, said, "The overseas employment market has subsided due to COVID-19, but the world is wide and there are many opportunities available. Therefore, this time is a good opportunity to be even more prepared, and to do that, we plan to be more active in running customized events that can be useful to the students who hope to gain employment overseas."
KU Sejong Student PR Team, KUS-ON
Translator: Yang Hayoung
Editor: Conrad Brubacher