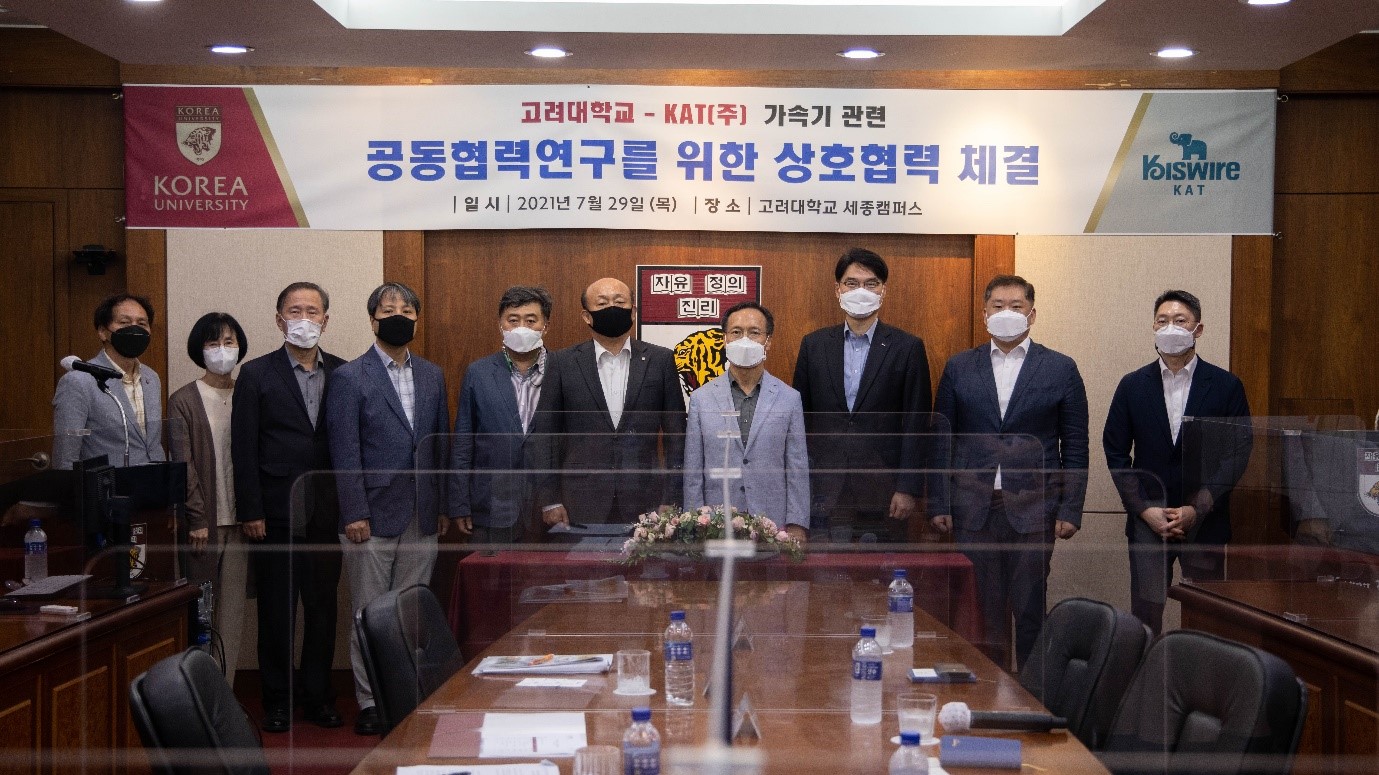 Korea University Sejong Campus and KAT Co., Sign Business Agreement for Joint Research on Superconducting Accelerators
Last September 29, a business agreement for joint research on superconducting accelerators took place at the Korea University Sejong Campus Administration Building. The agreement was held to create a system for mutual cooperation between Korea University Sejong Campus and KAT Co., affiliated with KISWIRE, involving joint research on superconducting accelerators, technology education, and talent cultivation. Korea University Vice President Kim Young, Head of KAT Co., Lim Jaedeok, and many others were present on the day of the event.
With this agreement, Korea University Sejong Campus is planning to continue its sophisticated accelerator research collaboration with the KAT Cooperation. Also, they are planning to strengthen the competitiveness of both organizations by undertaking collaborative research in the accelerator field and creating a close cooperative system in order to cultivate related talents.
Vice President Kim said, "Many achievements of the Korea University Sejong Campus Accelerator Major were made possible thanks to the close cooperation between domestic and foreign accelerator research institutes and the family cooperation of Korea University." He added, "With today's agreement, we hope that both organizations will develop by fusing Sejong Campus's outstanding accelerator field research capability and talent cultivation system with KAT Cooperation's remarkable technology."
CEO Lim Jaedeok said, "We are very happy that we have made this agreement and are receiving assistance from Korea University, which is making its mark in the field of accelerators. We hope to develop global competitiveness through this collaboration."
In related news, Korea University Sejong Campus has become the first university in Korea to possess five accelerators after receiving both foreign and domestic donations of a small heavy ion accelerator, a small proton accelerator, and a small electron accelerator (3 units). Thanks to these achievements, the '4th Asian Superconducting Accelerator School' will be held in Korea University Sejong Campus in February of next year.
KU Sejong Student PR Team, KUS-ON
Student Reporter: Kim Hyewon
Photographer: Park Joonhyung
Translator: Lim Eunhee
Editor: Conrad Brubacher