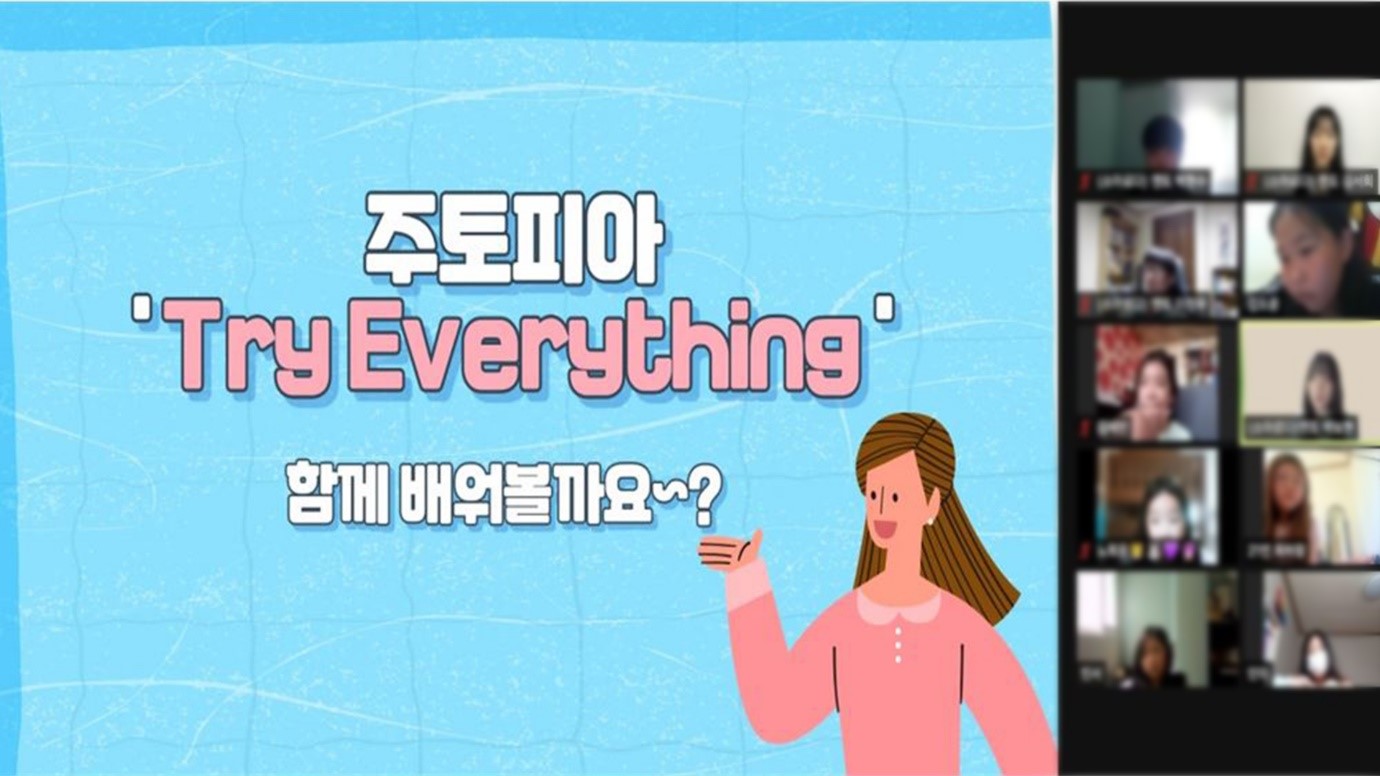 * This picture shows an image captured from the online zoom screen of the University Students' Talent Donation Camp for Summer
'It Is Worthwhile to Donate Talent to Children'
The Korea University Sejong Volunteer Service Center carried out the University Students' Talent Donation Camp for Summer from August 9 to 12, targeting the students of Guun Elementary School.
This summer camp was planned for the elementary school students to seek their fields of interest and their own talents with the support of the Korea Scholarship Foundation.
Team Soaroda, a volunteer service team of undergraduate mentors from various majors, conducted diverse programs for the elementary school student mentees such as 'Eng-tophia' (English taught through movies), 'COVID-19 and the protection of the environment,' 'Global culture travel,' 'Learning entry-level coding,' 'National holidays and finding role-models in movies,' and 'Career exploration.'
The volunteer service members allowed elementary students to focus intently on the activities including making, drawing, and sharing their opinions through relatable discussions and aided them in garnering multiple perspectives by using audiovisual documentation related to each program effectively.
Speaking about their experience there, the mentors of Soaroda said, "It was worthwhile to see that the mentees had fun and got an educational experience during the Talent Donation Camp over the course of the four days. During the COVID-19 pandemic, we think that we were able to give the students an experience that went above and beyond simple face-to-face activities since we provided them with a wide range of diverse and new subjects through non-face-to-face activities."
A student from Guun Elementary School who attended the camp said, "Doing the entry-level coding made me excited and interested and I could find my own aptitude."
The Sejong Volunteer Service Center was founded to establish the culture of academia, training creative human resources, realizing a university built on local value, and saving the country through education based on the founding philosophy of freedom, justice, and truth, the ideals of education.
KU Sejong Student PR Team, KUS-ON
Translator: Yang Hayoung
Editor: Conrad Brubacher